Will Nepal hand over Himachal temple robber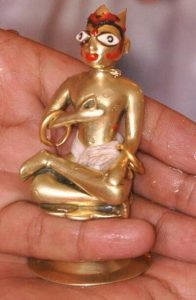 Shimla :The Himachal Pradesh police is upbeat after finding all the stolen idols and artefacts in the Kullu valley some six weeks after they were stolen from a famous temple in Kullu town.
But worries remain if the lone robber can be deported to India as there is no extradition treaty with Nepal.
"We will try for the deportation of the accused Nar Prasad a Nepalese national," said Sanjay Kumar, Himachal police chief.
"We identified the man on the basis of cc tv footage and mobile calls active on the night the theft took place on Dec 8 last year," he said.
"He has a track record of thefts and has been to jail many times," said Sanjay Kundu additional police chief who conducted the investigation.
The centuries old Raghunath idol is highly revered. There were four other idols and other temple valuables.
"The accused confessed to Nepal police on Friday.Our team of police officers have also gone to Nepal. They conveyed to us and we were able to find the idols and other valuables from two different spots near Kullu," Kundu said.
This is the biggest temple theft in Himachal Pradesh and police had a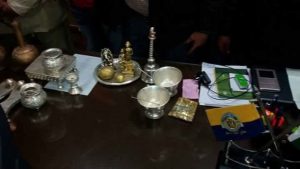 nnounced Rs 10 lakh for providing clues of the robbery.
"The robber had entered the guarded temple from the roof after removing slates(stones) and sliding in with the help of a rope and the idols and artifacts
weighing 1 kg gold and 10kg silver," Kundu said .
The exotic Kullu Dassehra fair is held in honour of the Kullu valley's chief deity Raghunath(Ram).The annual fair in autumn attracts people from across the world as over 200 village deities gather outside the temple.
Most villages have a temple and idol of a deity in the hills of Himachal Pradesh.
Temple thefts have been on the rise in recent years.But this theft(of Raghunth) is the biggest ever in the hill state.