Himachal sets up new recruitment body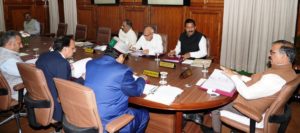 Shimla: The state cabinet today decided to establish the Himachal Pradesh Rajya Chayan Aayog to conduct examinations for the recruitment of various Group-C posts under the state government PSUs, Boards, Corporations, Local Bodies in place of disbanded State Staff Selection Commission Hamirpur. 
The Cabinet approved 'Mukhyamantri Laghu Dukandar Kalyan Yojna- 2023' and decided to allocate Rs. 40 crore under the scheme. It will provide better opportunities for availing loans to small entrepreneurs and skill-based workers like cobblers, tailors, barbers, mobile repairing vendors, vegetable and fruit vendors for their business. 
It decided to bring the Himachal Pradesh Land Revenue (Amendment) Bill, 2023 in the upcoming Monsoon session of HP Vidhan Sabha to address the issue of delayed decisions of Revenue Court cases and to streamline the various revenue operations like partitions, corrections, mutations, appeals and demarcations.
It also decided to roll out the third phase of Himachal Pradesh Sadhbhawana Legacy Cases Resolution Scheme, 2023 from 1st October 2023 to 31st December, 2023 to settle pending assessment cases and arrears which were under litigation or were yet to be assessed under GST. 
The Cabinet decided to establish a Single Energy Trading Desk for coordinating trading strategies and transactions of power in respect of HPSEBL, HPPCL and Directorate of Energy with effect from financial year 2024-25 for optimisation of revenues. 
It also gave its nod to amend Swaran Jayanti Energy Policy, 2021 in order to manage shortfall of energy during the lean period due to climatic, topographic and other associated reasons. The new provisions will encourage the installation of rooftop based solar projects and contribute to power generation.
It decided to increase the honorarium for SMC teachers by Rs. 2000 per month from 1st April, 2023, which will benefit 2115 individuals.  Furthermore, it was also decided to enhance the honorarium of part time water carriers working in the Education Department from Rs. 3900 to Rs. 4400 per month with effect from 1st April, 2023, benefitting 283 individuals.
The Cabinet decided to fill up 1226 posts of Constable in the Police Department which include 877 male constables, 292 female constables and 57 constable drivers to strengthen the department. 
It was also decided to fill up 12 posts of Mining Inspector, 24 posts of Assistant Mining Inspector and 38 posts of Mining Guard in the industries department to check the illegal mining activities.
It decided to fill up 50 posts of Horticulture Extension Officers in the Horticulture Department.