Shimla's Raj Bhawan opened to the public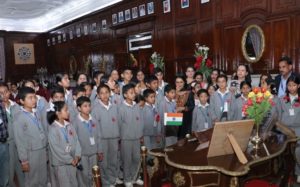 Shimla: The Himachal Pradesh Raj Bhavan had been thrown open to the general public from today.
Earlier known as 'Barnes Court', the huge building was built in Tudor style architecture. This site was first occupied by the British Commander-in-Chief of the Indian Army, Edward Barnes in 1832, after whom it was named. It was the residence of various British Commanders-in-Chief.
In 1972 the historic 'Shimla Agreement' between India and Pakistan was signed here by the then Prime Ministers," Indira Gandhi and Zulfikar Ali Bhutto.
On the first day of its opening, the Governor welcomed around 60 children from local schools Portmore and Government School Chotta Shimla, who visited Raj Bhavan and were given a tour of the heritage building, explained about the importance of the events that took place in Raj Bhawan.
The school children also interacted with Governor Shiv Pratap Shukla and the Lady Governor, Janaki Shukla. A short documentary based on the history of Raj Bhavan was also shown.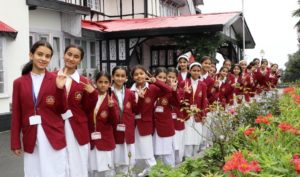 While interacting with the media, the Governor said Raj Bhavan was a historical and a heritage building. "I took the initiative to throw Raj Bhawan open to general public so that the common man could come and learn more about this heritage building besides enjoying its magnificence."
I have taken this decision based on the analogy of opening of Rashtrapati Niwas to the general public by President of India, Droupadi Murmu.
To visit Raj Bhavan, one can contact on WhatsApp number 94183-16617 or landline 0177-2624152 and apply through email:  [email protected]