Himachal bans hill cutting till 16 Sept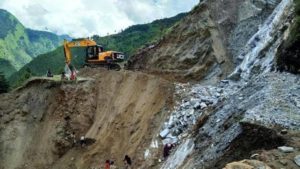 Shimla: In view of the widespread landslides continuing in Himachal Pradesh the state government today imposed a ban on hill cutting for any kind of private development and construction activity, except for rebuilding of disaster affected buildings and roads.
This ban will continue for two weeks till 16th September 2023. 
Apart from this fresh planning permission,building permissions will also be banned for commercial tourism units in Shimla, Mandi, Kullu, Kangra, Solan and Chamba districts upto 16th September.
A spokesman of the state government said during the on-going monsoon season, unprecedented environmental disruptions have been witnessed across the state which includes catastrophic landslides, land subsidence, river bank failures and severe erosion leading to the tragic loss of valuable lives and properties.
The spokesperson said this decision has been taken in order to ensure utmost safety to human lives, habitations, infrastructure, to preserve the fragile ecological environment of the state and further with the intention to limit any such damage in future.
He said that the order shall come into force with immediate effect and violations will be dealt as per law.