Himachal cancels Jangi Thopan Powari project to SJVNL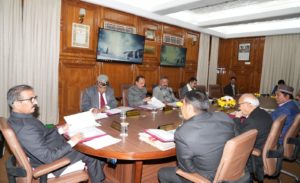 Shimla: The Himachal Pradesh cabinet today decided to cancel the allotment of Jangi Thopan Powari Hydro Electric Power Project (780 MW) made in favour of SJVNL, alleging the central PSU has failed to achieve progress in the implementation of the project within the stipulated time period.
The cabinet recommended to the Governor to hold the Himachal Pradesh vidhan sabha winter session from 19th December to 23rd December, 2023 in Dharamsala.
It also decided to appoint 4500 Para-workers in Jal Shakti Vibhag, fill up 25 posts of Excise and Taxation Inspectors in the department of State Taxes and Excise and 10 posts of Horticulture Development Officers in the Department of Horticulture.
It accorded sanction to one time waiver of Motor Vehicle Tax as well as one time waiver of associated interest and penalties for old vehicles that will be scrapped at Registered Vehicle Scrapping Facility (RVSF).
This waiver will be applicable for a period of one year, which will motivate vehicle owners to choose environmentally responsible options of scrapping their old vehicles in accordance with the existing norms.
It also decided to grant 25 percent concession to non transport vehicles upto 15 years and 15 percent concession in case of transport vehicles for eight years, on the tax payable under section 14 of the HP Motor Vehicles Taxation Act 1972 for registering new vehicle against the submission of valid 'Certificate of Deposit'.
The cabinet gave its nod to bring more areas of Shimla, Chopal and Kullu under the planning area to check the haphazard construction in these areas.
Nod was also given to amend the Himachal Pradesh Co-operative Societies Rules, 1971 to empower the co-operative societies functioning in the state.  It was also decided amend the rules of the Himachal Pradesh Hindu Public Religious Institutions and Charitable Endowments Rules, 1984 to make optimal use of gold and silver lying with the temples of the state.   
The cabinet also approved to adopt six plus years of age criteria for students seeking admission to Class-I in all the schools of the state from the academic session 2024-25.