7 per cent D A for Himachal employees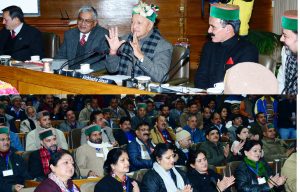 Shimla:The Himachal Pradesh government on Tuesday announced a 7 per cent dearness allowance to the state government employees.
This DA is due from July last year.The arrears up to March 2015 will be deposited in the provident fund of the staff.
"The enhanced D A will put a burden of Rs 300 crore on the state exchequer," chief minister Virbhadra Singh said.
Himachal probably has the highest ratio of goverment employees in the country. There are close to 2.5 lakh government staff, while the population of the state is only only 68 lakh.
While many blame the 13 th Finance Commission for underestimating the committed liabilities of the state despite Himachal being a special category hill state.
Others say successive governments in the state have mismanaged funds, this also includes providing jobs to far too many people in the government sector.