World Bank worries about Himachal kids and the old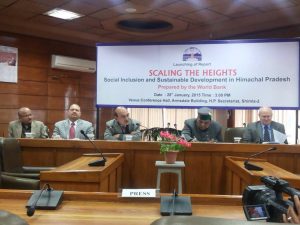 Shimla :The World Bank on Wednesday expressed concern over the disturbing malnutrion in children and gender inequality in Himachal Pradesh.
Despite impressive economic growth, reduction in poverty in recent years the hill state needs to tackle malnutrion, falling sex ratio of girls and the challenge of looking after the growing number of old people.
Talking to the media after the release of the latest World Bank report here Maitreyi Das, World Bank's social development specialist said, "despite all its achievements Himachal was a puzzle to us, it is ahead of most other states in many fields but had a lot to achieve in the field of malnutrion and female ratio."
"Most deaths of newly born babies take place within the first month.As couples are producing less and less children they often prefer boys," the report says.
"Another challenge is the rise in population of the elderly which will double by 2025 from the current 7 per cent," Das said.
"Himachal is looking like Kerala with rising number of elderly people who need health care and social pensions among other services," she said.
Highlighting the achievements Das said, "the report says Himachal has seen a four fold decline in poverty since the 1980s."
Unlike other states in northern India female employment is high.
"The state has seen a fertility decline.It is better than the United States and at par with France at 1.9,"she said.
"Unlike other states Himachal is almost entirely open defecation free and due land redistribution most people in the countryside own some land.Violence against women is very low," the report says.
The report forecasts high economic growth in coming years particularly in infrastructure.
The state has 100 per cent electrification since 1989.It has one of the highest literacy rates in the country. Mostly mountainous the state has a population of 6.8 million(68 lakh).