In Siberia with the mesmerising Colin Thubron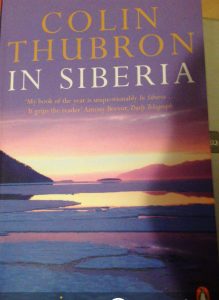 Colin Thubron has been called the last of the gentlemen travel writers we have. Eton educated and stoic.He takes his punishing epic journeys alone across the world and never complains. And then he rewards his readers by producing great books.
His prose is rich, lyrical and often poetic. Thubron is
one of the best literary travel writers of our times. His books on Russia and China should be read by generations to come.
In Siberia(Penguin), is about Thubron's journey a decade after the break up of the Soviet Union. Remember he already had two other books on Russia 'Among the Russians' and 'The lost heart of Asia'.
Some of the memorable passages in this book which evoke Siberia are:
"If Siberia was detached from Russia, it would remain by far the largest country on earth.At almost five million square miles, it is bigger than the United States, including Alaska, and western Europe combined. As the sun is rising over the Urals,it is setting on the Bering Sea. My journey, I fear will vanish in it."
Writing about the Baikal lake,"The waters plunge to a depth of over one mile:by far the deepest lake on earth.Its statistics stupefy.It harbours nearly a fifth of all the fresh water on the planet:equal to the five Great Lakes of America combined, or to the Baltic Sea.If Baikal were emptied and all the world's rivers diverted into its basin,they would not fill it within a year—-It is, too the oldest of all lakes."
And about Soviet Union's notorious labour camps and mines under Stalin he tells us:
"The mines broke a man's health after three weeks, and killed him within a few months.Sometimes whole brigades were taken from the work-face and shot out of hand—–They executed a man,typically, by lifting him up and smashing him to the ground until his already decalcified bones were broken—–there were camps where nobody survived at all."
In Siberia is perfect Colin Thubron country and involves a journey of 15,000 miles. No other writer could have produced a better account.This is truly a haunting book to be savoured and treasured !