Leopard skins seized in Himachal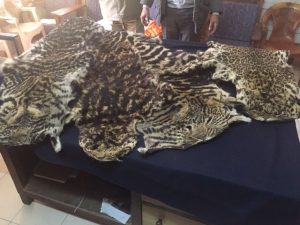 Shimla :Police in Himachal Pradesh's Bilaspur district have found four leopard skins. Two men have been arrested,Tuesday.
The two suspects were stopped on a scooter and on checking the four leopard skins were found folded in a white plastic bag, police said.
The men both locals are being questioned.
Leopards are found in the middle and lower hills of Himachal Pradesh.Poaching of these big cats picks up sharply in snow covered areas.
Wildlife officials are often lax during winter. Traditionally villagers hunt leopards in winter as they move closer to villages in search of prey.
In recent decades more and more forests have been illegally cut by farmers to encroach government land for cultivation of crops.
Along with locals outsiders are also found poaching wild animals many of whom are endangered.
Wildlife officials have no figures about estimated poaching and smuggling of animal skins and other parts.