Plan to expand Shimla's old bus station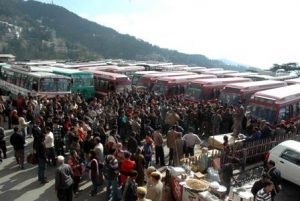 Shimla :A plan is expected to be ready in the next few days to suggest ways to modernise and increase parking space and other facilities at the old bus stand located in the heart of this hill station.
A four member committee will submit its report by the end of this month to the government sources said.
Besides modernising this bus station, increasing parking space, raising at least one storey of the main building besides other changes are expected.
The entire work is expected to take a couple of years, transport officials say.
The old bus stand in Shimla mostly plies local buses but congestion has grown over the years.This in turn clogs Shimla's busy adjoining circular road.
This used to be Shimla's ISBT until a few years ago and was shifted on the outskirts at Tuttikandi to rid the town of traffic congestion.
Authorities here have been struggling with traffic congestion and parking space for many years.
Three parking lots are being constructed. Near the high court, at Chotta Shimla and at Sanjauli.
Creating parking space and wider roads is difficult in the steep terrain of Shimla.
Many tourists avoid Shimla due to this reason even though Shimla remains a popular destination for holiday makers round the year.