Virbhadra hits back at BJP's slur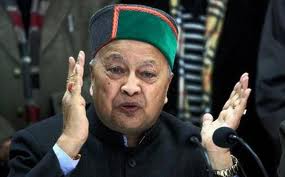 Shimla : Stung by the BJP's making public his income tax details the Himachal Congress chief Virbhadra Singh said Tuesday these charges were false and fictitious being floated by a losing BJP .
Senior BJP leader Arun Jaitley earlier in the day here demanded an investigation by a special investigation team (SIT) on allegations that Virbhadra received kickbacks, and facilitated huge cash deposits in favour of his business partner Anand Chauhan.
Jaitley said Chauhan is a former Life Insurance Corporation (LIC) agent based in Shimla, and has allegedly made huge sums of money during his association with Singh.
Responding to the charges Virbhadra Singh said ,
"Some senior leaders of the BJP , particularly Arun Jaitley seems to know more about my income tax returns . This is being done to create confusion in the public and divert my attention from the election campaign ," said Virbhadra .
"First they issued the issue of ISPAT industries pay off in which I had nothing to do . I have already demanded a CBI inquiry so that the truth can come out ," he said .
Now he has expressed surprise that his personal income tax details have appeared in a section of the media even though these details cannot be disclosed even under RTI .
"I have repeatedly said earlier that that the income tax department should seek a response from me or my lawyers on my entire income and return details ," he said .
"I am surprised how Arun Jaitley acquired a private and personal document which is in safe custody of the income tax officials . As the BJP is losing this election it is putting these false allegation against me ," Virbhadra said.