Venice in the eyes of Jan Morris : Review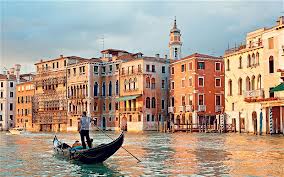 It took me long to lay hands on a copy of this classic book on Venice by Jan Morris .
 The reputation of the book (written in 1960) has been only growing over the years as it is revised and updated .
 There is no doubt it is the best book about this great city and will probably remain so .
 The opening chapters are brilliant examples of travel writing by Jan Morris one of the last few great living travel writers in the world, she is 86 now .
 The opening is classic stuff :
 "So the Venetians became islanders , and islanders they remain , still a people apart , still tinged with the sadness of refugees."
 "She(Venice) was a natural funnel of intercourse between east and west , and her greatness was built upon her geography."
 "She became mistress of the Adriatic , of the eastern Mediterranean , and finally of the trade routes to the Orient—Persia , India and the rich mysteries of China."
"In Venice the Orient began. Marco Polo was a Venetian————–She was never loved , She was always the outsider , always envied , always suspected , always feared —-She was the lion who walked by herself ."
 "She remains a city without wheels , a metropolis of waterways . She is still gilded and agate-eyed. Travellers still find her astonishing , exasperating , overwhelming , ruinously expensive , gaudy—–"
 "Venice , like many a beautiful mistress and many a strong wine, is never entirely frank with you . Her past is enigmatic, her present contradictory , her future hazed in uncertainties."
 "You leave her sated but puzzled , like the young man who withdrawing happily from embrace, suddenly realises that the girl's mind is elsewhere, and momentarily wonders what on earth he sees in her ."
 "An army of visiting admirers has written paeons—Goethe, Stendhal—Wagner, Thomas Mann , Henry James , Proust , Rousseau, Byron, Browing, Dickens, Hemingway, Ruskin , Dante and George Eliot."
 Nietzsche , of all people, once said if he searched for a synonym for music, he found always and only Venice.
Even Hitler thought the city beautiful.
 In the last chapter Morris writes Venice has lost her silken dreamy spell , but her motion is still soothing and seductive .
 She is still a dappled city , tremulous and flickering , where the sunlight shimmers gently beneath the bridges, and the shadows shift slowly along the promonades. There is nothing harsh or brutal about the movement of Venice. The gondola is a vehicle of beautiful locomotion .
 "Venice has preserved her independence during eleven centuries "wrote Voltaire just thirty years before the fall of the republic .
 Morris has led a remarkable life.  In 1953 she was with the Everest expedition and reported to the world the conquering of the world's highest peak by Tenzing and Hillary .
 She is the first famous person in the world to become a transsexual woman . She wrote many of her earlier books as a man (John) and later became a woman (Jan).
 Morris fathered five children and has remained married to the same woman since 1949 .
 But even a great book can be flawed. Conscious of this the writer acknowledges in her later editions of Venice .
 "It is a highly subjective , romantic , impressionist picture less of a city than an experience . It is Venice seen through a particular pair of eyes at a particular moment—young eyes at that, responsive above all to the stimuli of youth."
 Morris writes beautifully , but her prose can seem old fashioned . At places even verbose and flowery.
 The book's flavour is often sugary and can leave you with a cloying feeling !