Two new Kalka-Shimla holiday trains from Dec 21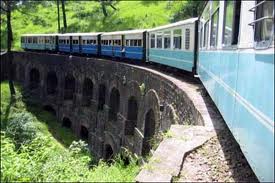 Shimla : Ahead of the big year end festival rush to Shimla , the Indian railways will start two new holiday trains on the busy Kalka-Shimla narrow gauge track from Dec 21 to Dec 31.
Shimla railway station superintendent G S Rajput said the first train Shivalik Duplicate will leave Kalka at 6 :30 in the morning .
On return journey the Shivalik Duplicate will leave Shimla at 3 : 50 pm . The second train the Himalayan Queen Duplicate will leave Kalka at 12 : 45 pm. It will return from Shimla at 9: 25 the next morning .
In addition to this five trains are already plying on this narrow gauge track .These leave Kalka at 4 am, 5 :30 am, 6 am , 7:30 am and 12:10pm.
They leave Shimla at 8:30 am, 2:25pm,5:40pm and 6 :15 pm.
Travel on the Kalka-Shimla UNESCO heritage track is subsidised  to popularise the toy train . It is already popular with certain tourists , particularly foreigners .
The over a century old track is 96 km long and rises from Kalka at 2800 ft in the Shivalik foothills to Shimla at over 7000 ft.
The winding track passes through 18 railway stations , 103 tunnels , 869 bridges and 900 curves .
Currently the rail car service on the track has been stopped for the past few months as the rail-car engines are being repaired .
Railway officials say the three single bogey rail-cars are expected to be back soon on rack soon.