Congress regains Himachal : Virbhadra rides into town with his men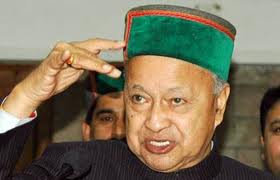 Shimla : Voters in Himachal Pradesh continued with the tradition of never voting an incumbant government to power paving the way for the Congress to wrest power from the BJP on Thursday
The verdict also put aside all forecasts by pollsters of a hung house . The Congress is well past the half way mark and has won 36 seats .
The BJP managed to win 26 seats and Independants 5 seats . The HLP which broke away from the BJP last year won only one seat .
The Congress victory is being largely attributed to five time former chief minister Virbhadra Singh who was made PCC chief only six weeks before the elections.
Singh , 78,  not only enthused the party but also toured the entire hill state extensively to take on arch rival the BJP .
While Virbhadra won from the Shimla rural seat by a huge margin of exactly 20,000 votes .
Reacting to the Congress win Virbhadra said , "The people of the state were fed up with the non-performance of the BJP government in the state."
Another Congress veteran Vidya Stokes won for the eight time . The 85 year old Stokes won from Theog in a bitterly fought triangular contest .
A former Congress chief and minister Kaul Singh has won from Darang by 2232 votes .
Outgoing chief minister P.K.Dhumal has won his seat from Hamirpur by a margin of 9302 votes . Four out of ten ministers in the Dhumal government lost their seats.
Prominent BJP losers are horticulture minister Narinder Bragta , food minister Ramesh Dhawala , industries minister Kishan Kapoor and forest minister and ex-BJP president Khimi Ram .
Prominent Congress losers include ex ministers Ram Lal Thakur , Gangu Ram Musafir , Vijay Singh Mankotia . Rangila Ram Rao and Former MLAs Kuldeep Singh Pathania, Harshwardhan Chauhan and Sukhvinder Singh Sukhu .
Mohan Lal Brakta of the Congress won from Rohru (SC) with the biggest margin in the state by 28415 votes .
Rajiv Saizal of the BJP won by only 24 votes in from Kasauli (SC) seat .
Voting took place on Nov 4 and counting took place after 46 days .
.