Sachin Tendulkar scratching around for a decade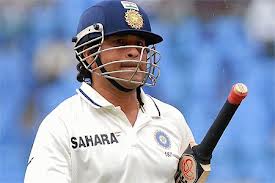 Like millions of others I  have been Sachin Tendulkar's biggest fan when he was a teenager and in his twenties .
Watching a young Tendulkar bat was a rare joy and a privilege . The world acknowledged his genius .He was  rightly described as the greatest batsmen to have played the game . But then time passed and things changed .
By the time he was in his late twenties his reflexes suddenly slowed, his skills declined but Tendulkar refused to accept this and has continued playing the game stubbornly for another decade .
In the last ten years or so he has played very few great innings unlike the first half of his career there have now been few great match winning attacking knocks .
His only desire seems to last the longest in the history of the game , to continue playing well into middle age .
This desire seems to have blinded him . Consider this Tendulkar has not yet formally retired from T20 , IPL , ODIs and Tests . Even though he doesn't deserve to be selected in any of these forms of the game for long .
I think Tendulkar is taking advantage of his god like status. He knows the selectors cannot drop him from any of these teams .
Whenever the nation asks him when is he considering retirement , Tendulkar says , "I don't know when I will retire , I wish to play as long as I am enjoying the game ."
But for heaven's sake the entire nation and the world needs to shout back at him , "Honestly , Sachin do you really deserve your position in the Indian eleven in any form of the game ."
Who will tell Tendulkar , enough is enough , please move aside like Saurabh Ganguly , Rahul Dravid , VVS Laxman  and many others who have quietly retired .
Let a youngster take your place , let that young man succeed or fail , but please accept that your time is over .
So please move aside , don't worry your place in history is guaranteed , you were a legend at twenty and will be remembered as the greatest man to have played the game.