Toxic lantana grass removal big task for Himachal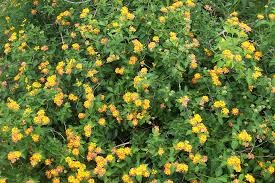 Shimla :Eradicating of the fast growing lantana grass was a big challenge for the Himachal Pradesh forest and environment department as it was spreading fast and threatening other grass and plant species to grow.
"Lantana grass was introduced in the hill state 40 years ago to check soil erosion but over the years had caused extensive damage by overrunning other grass and shrub species," state forest minister Thakur Singh Bharmouri said here Sunday.
"Uprooting lantana is a painstaking process. The state government is making efforts to remove the lantana menace so that other species can grow," Bharmouri said .
He said this year the forest department had set a target of covering 17,500 hectares under new forest cover. A quarter of this will be fruits and bushes .Rs 120 crore is being spent on tree plantation.
Speaking about keeping out encroaches he said the old method of wiring protected forests with barbed wires attached to wooden poles was no longer being done.
Instead cement poles and posts were being used to interlink barbed wires. Unlike cement, wooden poles rot quickly.