Himachal mulls registering migrant labour : DGP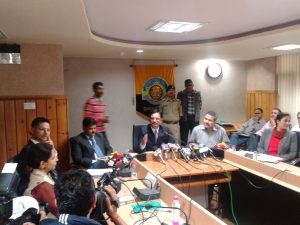 Shimla :With a sharp rise in the number of migrant labour across Himachal Pradesh the state government is planning to register them.
"Efforts are being made to register all migrant labour and domestic helps with the help of public, contractors, orchardists among others," Himachal DGP Sanjay Kumar said here Friday.
Currently most of the labour isn't registered in the state. This raises concerns about growing crime and exploitation of workers .
Most of the migrant labour is from Bihar, Jharkhand, Orissa , Uttar Pradesh and Nepal .
They are engaged factory work mainly in the industrial hub of Baddi,Barotiwala and Nalagarh . Many are engaged in housing and road construction work .
Seasonal labour arrives in large numbers in the apple and vegetable belts of the state from Nepal .
Often contractors fail to provide proper housing.So migrant labour lives in makeshift camps with poor hygienic conditions and defecate in the open in a state where most of the locals have toilets.
Interestingly in recent there has been a sharp rise in labour wages due to huge demand in factories, infrastructure projects and farm work. But cases of exploitation often remain unreported.
There has also been a sharp rise in temple thefts in the state . Most villages or a cluster of villages have at least one temple of the local deity with valuables attached to the deity. But these are mostly unguarded. Migrant people are often involved in these thefts.
But the state police has been sanctioned only Rs 1 crore to install 27 CCTV cameras, even though there is a need for far more such cameras, say police officials .
Asked about the terrorist alert on the Himachal-Jammu & Kashmir border in Chamba district the police chief said the CRPF had asked to keep a vigil in the Ravi river basin.
"We have increased police patrolling on the border, plugged entry routes and increased vigil in the area," he said .
Speaking about Narcotics,Drugs and Psychotropic Substances (ND & PS) crime the police chief said there has been a marked increase in such crime.
"There has also been a rise in crimes against women in some areas. 63 rapes were reported against minors and 69 against adults in the last one year," Kumar said .