Apple freight up by 12 per cent in Himachal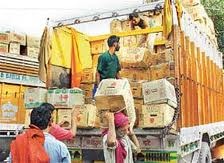 Shimla :Just ahead of the apple harvest in Himachal Pradesh the state government has raised the freight rate by 12 per cent .
This decision was taken after truckers and transporters met top state government officials and urged to raise the freight in view of the rise in diesel prices in the past one year .
The state horticulture department says the production of apple is expected to be around 2.25 crore boxes(22 to 30 kg) this year.
This is much lower than 3.30 crore boxes in 2013.
Apart from boxes lower quality fruit of 34,000 tonnes was procured by government agencies under the market intervention scheme (MIS). Most of this is crushed to produce juice, jams , chutneys and wine .
The highest production ever was in 2010 at 4.46 crore along with 1.1 lakh tonnes of fruit procured under MIS.
Himachal Pradesh accounts for a third of India's apple and is transported all over the country. The remaining apple is produced in neighbouring Kashmir valley. Uttarakhand also produces a negligible amount.
Although this year the state government here has decided to standardise apple packing in 22.5 kg boxes. But it remains to be seen if this decision can be implemented.
In recent years farmers have been pressurised by wholesale buyers and commission agents to pack carton boxes weighing up to 30 kg as it is cheaper to transport them even though this causes losses to farmers.
Like every year this time also a control room has been set up at Fagu on the Hindustan Tibet Road to regulate the smooth flow of apples out of the orchards.
Police has been deputed to regulate the trucks and pick-up vehicles in the narrow winding mountain roads as traffic jams are frequent during the apple season.
Apple is mainly produced in Shimla ,Kinnaur,Solan and Kullu districts . But Shimla accounts for 80 per cent of the output while tribal Kinnaur produces the tastiest apples .
The harvest begins in the lower hills in mid July and ends in early October when the fruit is picked in the high hills .