Shimla Ridge cracks again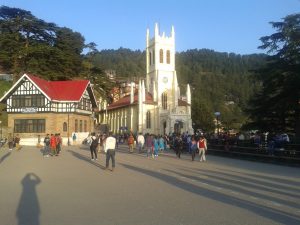 With the revival if the monsoon cracks have returned on the Ridge in downtown Shimla .
With more rain forecast for at least a week concern is growing about more damage to the Ridge.
During the last five years the Ridge has been sinking every monsoon. Surprisingly nothing concrete has been done by the civic authorities except filling up the cracks.
Another concern with the monsoon revival has been the falling of pine trees all over the hill station.
These giant trees not only threaten people's lives but also damage houses and break overhead power cables.
Often many parts of the town remain without electricity for long hours due to breaking of cables at many places.
Also walls and landslides have taken place at some places . Driving on the potholed roads is getting difficult with each passing rainy day .
Another concern is muddy water supply. Despite the regular rain many parts of the state capital do not receive daily water supply as the civic officials say muddy water cannot be cleaned at many water sources.