Tibetans refugees aid for Nepal quake victims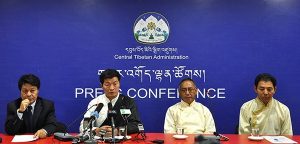 Following the visit of Tibetan to quake hit Nepal the Tibetan government in exile on Saturday announced a fresh aid of Rs 30 million for earthquake ravaged areas of Nepal.
The Tibetan government has applauded the Tibetan refugees across Nepal led by Buddhist monks and nuns for their relentless relief efforts in helping the victims of earthquake in remote places.
"It is a reflection of the inherent kindness and gratititude of Tibetans towards Nepalis as advice by his holiness the Dalai Lama," an official of the Tibetan government in exile said here.