Solan garbage disposal in a mess !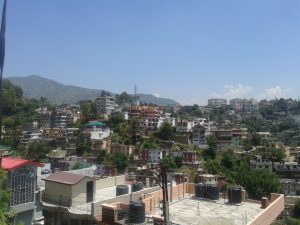 Shimla : Solan a hill station mid-way on the Kalka-Shimla highway has a failed and rotten garbage disposal system. As a result the heaps of garbage all over the scenic town is raising a stink in the growing summer heat .
Unlike the state capital Shimla there is no house to house garbage collection in Solan. Also the bursting garbage dumpers are not cleared for weeks on the outskirts of the town complain residents .
Civic officials say they do not have enough vehicles to ship the garbage from Solan to the Shimla underground garbage unit.
Residents say the problem began after the decision to stop open garbage disposal at nearby Salogra by a court order .Even burning of garbage is banned.
At a height of 5200 ft Solan is the second most populous city after Shimla in Himachal Pradesh and has a population of over one lakh .
Solan district is also headquarters of the district which has most of Himachal Pradesh's industry located in the industrial belt of Baddi-Nalagarh-Barotiwala-Parwanoo.
The town houses a sizeable migrant population and is one of the fastest growing in the hill state.
In the absence of garbage collection .Early morning or after nightfall many residents can be seen emptying garbage on hillsides and nearby nallas.
When lazy civic officials are asked the reason cited is shortage of manpower and vehicles to clear the streets on a regular basis .
Angry residents say this is a pathetic excuse by officials to avoid routine cleaning work .
So the hill station continues to be littered with filth day after day and there seems to be no solution to clean up the ever growing mess !