Could Nadda make it to top of the BJP !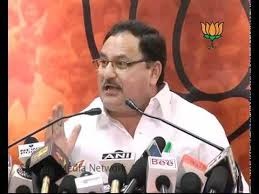 Shimla : Three MPs from Himachal Pradesh fancy their chances to find place in the Narendra Modi cabinet and one of them to the top post of the BJP.
J P Nadda a Rajya Sabha MP and Vice President of the BJP hails from Himachal's Bilaspur . He is said to be the front runner for the post of national president of the BJP if Rajnath Singh becomes a minister.
With a long experience in state and student politics.He has been a minister and leader of the opposition in the state assembly.
Nadda is articulate , young at 53. He is known to be close to Modi since the mid 90s when he was in charge of Himachal affairs.
If Nadda makes it to the top post of the BJP his stature will rise so high that he will then dwarf over the rest of the leaders in the state which include former chief minister and former cabinet minister the veteran Shanta Kumar among others .
While Shanta Kumar an MP from Kangra may not be able to easily find a place in the Modi cabinet as he is already 80 and could be kept out by Modi like Murli Manohar Joshi .
Then there is Anurag Thakur the son of the former chief minister and current leader of the opposition P.K.Dhumal.Dhumal is lobbying for his son Anurag.
Anurag , 39 an MP from Hamirpur is currently head of the BJP's national youth wing but but is more in the news as joint secretary of the BCCI rather than as an MP .
But with Modi expected to have a small cabinet chances are that none of the Himachal MPs are able to finally make it to the cabinet .