No threat to Himachal govt after Modi win : Virbhadra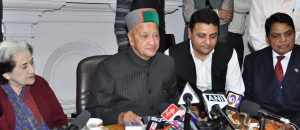 Shimla :After the BJP won all the four Lok Sabha seats in Himachal Pradesh chief minister Virbhadra Singh said Friday there was no fear to the future of the Congress government in the hill state  and it will last its full term .
Reacting to the leader of the Opposition P.K.Dhumal's demand that after losing all the seats he should resign as chief minister he reacted sharply.
"I have no intention of resigning.I want to tell Mr Dhumal if wishes were horses beggars would ride."
Asked about the resignation offer of the Assam chief minister Tarun Gogoi after the Congress's poor showing in his state Virbhadra said.
"He may have his compulsions to resign I don't," he said.
"I have the mandate of the people of state to complete my full-term of five years," be said .
Asked about the reasons for the Congress's poor performance he said .
"The Modi wave has also swept Himachal . I congratulate Narendra Modi on his victory and hope he will fulfill all his promises."
About the future of the Congress in the country the six time chief minister said ,"We have faced this situation in the past and the Congress will bounce back".
"Another reason for Modi's victory is the relentless coverage of the over 500 plus news channels day and night . The Congress simply could not match the huge resources spent on advertisements of the BJP," he added.