SJVNL profit jumps 8 per cent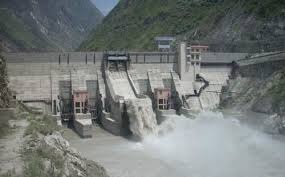 Shimla :With almost 5 per cent increase in electricity generation from its flagship 1500 MW Nathpa Jhakri power station PSU Sutlej Jal Vidyut Nigam Limited (SJVNL) has recorded an over 8 per cent jump in profit in the first half of the current fiscal year .
The net profit of the company increased to Rs. 758.87 crore from Rs. 702.30 crore earned during the corresponding period of last year.
While the company's total revenues increased from Rs. 1110.69 crore to Rs. 1174.10 crore, the PBT (Profit Before Tax) also grew 9.07% from Rs. 851.90 crore to Rs. 929.19 crore.
The company's EPS during the half year ending September 2013 has increased from Rs1.70 to Rs. 1.83. The financial results of the company were declared at a meeting of the Board of Directors held at New Delhi Wednesday .
During the period April to September 2013 SJVN's 1500 MW Nathpa Jhakri Hydro Power Station generated 5494 million units of electricity which was 4.6 % more than the 5250 MU achieved during the corresponding period of last year.
In terms of the MoU Nathpa Jhakri Hydro Power Station is scheduled to generate 6875 MU of electricity during the financial year 2013-14, while it has already generated 6058 MU till date.
The Plant Availability Factor of the Power Station during the six month's period ending September 2013 has also increased from 106.65 per cent to 107.88 per cent .
Consequent to signing of a MoU with the Govt of Bihar, SJVN has already taken over the Buxar Bijlee Company Pvt Ltd (BBCPL) for setting up of Green Field 1320 MW (2 x 660 MW) Supercritical Technology Thermal Power Project in Bihar as a wholly owned subsidiary.
During the quarter SJVN has also incorporated a subsidiary Company titled M/s. SJVN Thermal Private Limited for execution of this project.
It has also been allocated 486 Million Tonne coal reserves in the 2012 MT Deocha-Pachami Coal Block in West Bengal, by the Ministry of Coal, for this thermal project.
A wholly owned subsidiary company (M/s SJVN Arun – 3 Power Development Company Private Limited) has been incorporated in Nepal to implement company's Arun-3 Project in Nepal.
SJVNL's 412 MW Rampur Hydro Electric Project in Himachal Pradesh is also nearing completion and is scheduled to be commissioned during the current financial year. SJVN's 47.6 MW Khirvire Wind Power Project, coming up in Maharashtra, is also ready to start generating power during the current quarter of the financial year.