Shimla's Ridge gets giant tricolour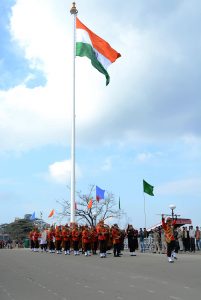 One of the most popular spots in Shimla the Ridge now has a national flag fluttering atop a 100 ft high pole located at the centre of the ground.
The national flag was unfurled Thursday on a chilly breezy day by the state chief minister Virbhadra Singh.
The flag will continue to flutter even at night with the help of special lights.
Though it has not been revealed how much building the pole cost but it was built by Bajaj electricals, a civic official told Sun Post.
Himachal Pradesh has two such giant flags in Kullu and Dalhousie.The highest such flag in India is in Leh, army sources said.