Himachal police band style music on the Mall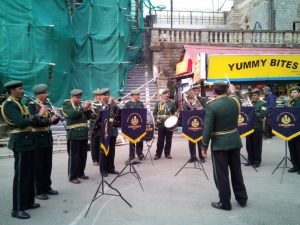 Shimla: Of late there is a noisy band trying to entertain walkers on Shimla's Mall Road every evening.
Even though they play lousy tunes, somehow the band sounds good to Mall walkers as Shimla is experiencing freezing temperatures for the past few days.
The band plays just outside the police reporting room on the Mall and passers by stop to watch as the police band plays into the evening.
Surprisingly most of these cops are not pot bellied as most middle aged cops tend to be.
Like DJ bands in weddings they mostly play popular and loud disco natti tunes to entertain walkers in the freezing cold. Some curious tourists also stop to listen and watch them play.