Shimla monkey & stray dogs terror
The Himachal Pradesh government on Monday acknowledged there was a terror of monkeys and stray dogs in the state capital Shimla and had taken some steps to tackle this problem.
In reply to a question about the menace of monkeys and stray dogs the state forest minister Thakur Singh Bharmouri said a monkey sterilisation centre had been set up in Shimla over seven years ago.
"From Feb 2007-July 2014, 23,653 male and female monkeys from Shimla and surrounding areas have been sterilised here," the forest minister told the house.
"To speed up the process more teams were being pressed into service to sterilise the remaining monkeys," Bharmouri said.
"An awareness drive has been spread through hoardings and other means urging people not to feed them," he said.
The minister said due to these steps the monkey population had dropped by 65,000 in recent years.
A stray dogs birth control society is functioning since Oct 2006 and sterilising dogs in Shimla.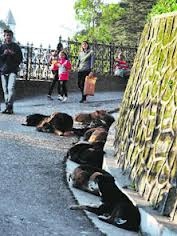 Kullu MLA Maheshwar Singh said the monkey problem was so serious in the state capital that even the Vidhan Sabha premises were not spared by monkey attacks among other places in the hill station.
He said the dog menace problem was equally bad. He cited the recent case of a rabid dog biting 18 people in the town of Rampur in Shimla district.