4.58 quintals gold in a dozen Himachal temples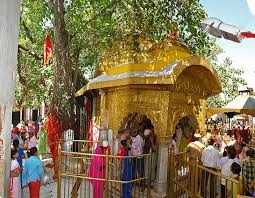 Shimla :A handful of temples run by the Himachal Pradesh government have a whopping 4.58 quintals of gold and 158 quintals of silver wealth . They also have cash.
The state chief minister Virbhadra Singh told the house in a written reply Friday that the Chintpurni goddess temple was the richest with 1.72 quintals of gold .
Followed by the Naina Devi temple which has 1.48 quintals . The Brajeshwari Devi shrine in the Kangra valley has 28 kg while Jwalamukhi has 37 kg.
The Chamunda temple near Dharamsala has 15 kg and the Balak Nath cave shrine in the Hamirpur hills has 22 kg gold.
Out of the 29 temples run by the state government information is only available about a dozen or so temples and is being gathered on the remaining shrines , the chief minister said.
It may be noted that apart from state government controlled temples there are hundreds of other small temples across the state which are often run by village temple committees for centuries. They all have valuables which are not available .