BJP disrupts Himachal house over Virbhadra case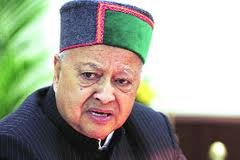 Shimla :A day after the Centre told the Delhi high court that there appears a prima facie case of money laundering against Himachal chief minister Virbhadra Singh, the Opposition BJP disrupted the house proceedings here Thursday.
The Opposition members demanded a discussion on the matter which was rejected by the speaker BBL Butail. This angered the Opposition who raised slogans against Virbhadra forcing the speaker to adjourn the house.
Speaking to reporters later outside the house Virbhadra said he would fight the case but so far he has not received any notice from the Delhi high court in this matter.
The Delhi high court on Wednesday reportedly asked the Income Tax Department to file before it tax assessment record and other documents of Virbhadra within a week.
"As the high court is already looking into the matter I do not wish to comment on the matter," Virbhadra said.
"But I would like to say the BJP is trying to draw unnecessary inferences from this issue . I would advise them to allow the law to take its own course," he told reporters.
"Some sections of the Central government are trying to implicate me in false cases. The Opposition leader P.K.Dhumal is trying to divert the attention from his own vigilance cases," he said.
Reacting to Virbhadra's allegation that a section of the Modi government was responsible for implicating him in false cases Dhumal dismissed the charge saying the Centre had nothing to do with the money laundering case against Virbhadra as it was an independent probe.