8430 permits for Shimla's traffic restricted roads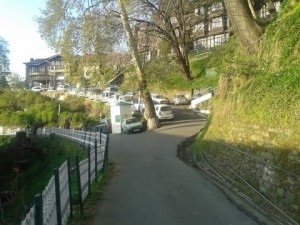 Shimla :A whopping 8430 permits have been issued since 2011 to allow vehicles to drive on Shimla's VIP restricted and sealed roads. Despite being expensive these permits are much sought after.
Chief Minister Virbhadra Singh told the house here Tuesday that these permits are issued by various agencies of the government.
They are issued on payment basis to some top government officials, politicians and residents living in the core area of old Shimla.
The chief minister said the number of permits issued was indeed high and needed to be reduced as it was creating congestion on the narrow winding roads.
He said the traffic police needed to check and penalise cars moving on these roads without permits.
He said CCTV cameras and checking points had been set up at many points . Of late patrolling had been increased on these eight sealed and seven restricted roads.
All these roads fall in old Shimla and only
limited motor vehicles are allowed since the colonial British era when Shimla was the summer capital of undivided India.
But no vehicles are banned on the posh Mall road and the Ridge in downtown Shimla except ambulances, and cars of the chief minister and governor.
Walking is still a way of life in Shimla . Although in recent years more people prefer vehicles despite congestion and lack of parking space in the hill terrain.