Shimla jaundice outbreak XEN IPH held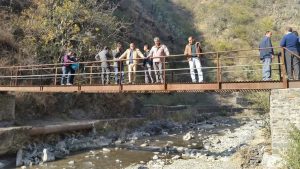 Police in Shimla have arrested another man on Sunday in connection with the jaundice crisis. The official is the executive engineer IPH department regulating the Ashwani khud water supply in the state capital.
Water mixed with sewerage has caused large scale jaundice in the hill station since December last year.
Police sources said more arrests could take place in the next few days as fresh water testing reports are expected.
The contractor responsible for cleaning and supplying the Ashwani khud water was arrested a couple of days back after being on the run for several weeks.
According to the state government well over a thousand people are suffering from jaundice due to the dirty water supply.
But the actual figure is believed to many times higher as people have carried out tests in private labs or have moved out of Shimla.
The Ashwani khud water is so toxic that even after flowing 30 km downstream to Solan people in that city are falling ill due to jaundice.
The reaction of the state government to the jaundice crisis in the state capital has been poor.