Kullu Nati Guiness record certificate arrives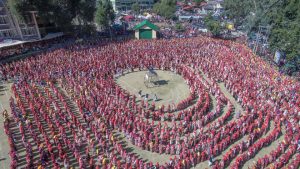 Shimla :The celebrated Kullu nati dance has finally received a certificate from the Guiness Book of World Records as the biggest dance of its kind, an official confirmed from Kullu.
9892 dancers took to the Kullu town grounds during the Kullu Dussehra festival last year on Oct 26 to make it the largest group of dancers in a mass dance.
Most of the dancers were women dressed in the local colourful traditional attire.
This is expected to further boost tourism in the scenic Kullu valley popular with tourists from across the country and overseas.