Sawan Ka Mahina with Nutan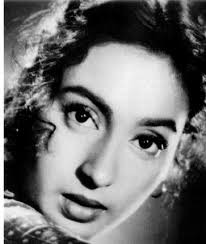 A top cameraman of the golden era once famously said that Nutan had the most perfect face on screen.
This MP 3 collection by Saregama has some of her finest songs in a career spanning 40 years before her untimely death at the age of 54 .
Chand Phir Nikla Magar Tum Na Aaye , Yeh Raaten Yeh Mausam ,Sawan Ka Mahina ,Woh Chand Khila , Chhod Do Aanchal Zamana Kya Kahega , Chandan Sa Badan.
Marna Teri Gali Main , Bahaon Ko Zara Lehra De , Pyar Par Bas To Nahin Hai , Kali Ghata Chhaye Mora Jiya Tarsaye , Dil Ki Nazar Se , Tumahari Mast Nazar Gar , Tumhin Mere Mandir .
Tere Ghar Ke Samne , Aye Chand Zara Chhup Ja , Phul Tumhe Bheja Hai Khat Mein and her last great performance in Saudagar where she sings Tera Mera Saath Rahe for Amitabh Bachchan who plays a character with negative shades .