Rs one million for catching Himachal temple robbers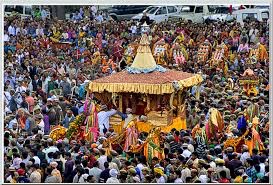 Shimla:Police in Himachal Pradesh on Wednesday announced a prize money of Rs one million(Rs 10 lakh) for information leading to the recovery of antique idols stolen a day before from the Raghunath temple in Kullu town.
"The burglary appears was carried out by highly professional criminals. The gang climbed over the temple roof, took out precise roof slate, then fixed their rope in the wooden plank," said Sanjay Kundu, ADGP law and order Himachal Pradesh.
"They broke open the false ceiling of the temple using some steel tool. The burglars climbed down by rope, decamped with 12 items, climbed up the rope and then fled from the scene of crime," he explained.
"Centuries old priceless five idols and other valuables weighing 1 kg gold and 12 kg silver were stolen .We have alerted police all over India, even Interpol," said Kundu.
Temple thefts are on the rise in the hill state in recent years, but police is calling this the biggest theft ever.
The temple is managed and looked after by the royal family of Kullu.
"The highly revered main idol(of Raghunath) was brought to Kullu over 300 years ago by my ancestor," said Maheshwar Singh a local legislator who is also the main caretaker of the temple.
Every year the colourful Kullu Dussehra festival takes place in Kullu in autumn.Hundreds of local deities are brought in by villagers to call on the temple of the chief deity Raghunath.(Raghunath is the other name of Rama ).
The exotic fair attracts people from across India and overseas.