Early snowfall greets Himachal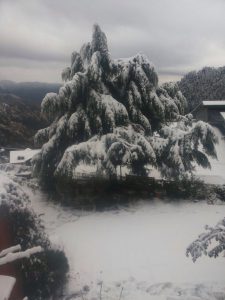 Shimla :Early December heavy snowfall has surprised the people of Himachal Pradesh with most hill resorts covered under a thick blanket of snow Sunday.
Manali, a popular resort some 280 km from here is under two feet of snow and cut off from the rest of the state.
"There is over two feet of snow in Manali with no power," Sachin Bhamba, a hotelier said by phone.
Hundreds of tourists were rescued from the hills overlooking Manali leading to the 13,050 ft high Rohtang pass late Saturday by the authorities.
"Some 600 tourists were evacuated from the high hills and brought to Manali," Vinay Dhiman, SDM Manali said.
The Rohtang pass is popular with tourists but also has a reputation of being a notorious for sudden blizzards killing people every year.
Life was thrown out gear in the state capital Shimla which received moderate snowfall. Vehicular traffic was brought to a halt at most places in the town.
Beyond Shimla traffic is not plying on the Hindustan Tibet road passing through the ski resorts of Kufri and Narkanda which are under deep snow.
The sprawling tribal belt of Kinnaur, Lahaul & Spiti received yet another fresh spell of snowfall.
"The wet spell will continue for the next 24 hours," said Manmohan Singh the local weather office chief here.
Himachal usually receives heavy snow spells in January and February.
The early heavy snow has been greeted by people connected to the tourism business and also by farmers.
Early snow is considered good for all crops.The mid hills produces apple and other fruits like cherry, apricot, pear and peach.
It is also known for off-season vegetable cultivation.