Sushant is AAPs Himachal Convenor
Shimla :The Aam Aadmi Party(AAP) on Wednesday announced its state team to be headed by Rajan Sushant.
Talking to reporters here AAPs observor Khem Chand Jagirdar said,"Rajan Sushant has been made state convenor and Rajesh Saxena the state treasurer."
"Chaman Ajta,Shanti Sharma,Sher Singh Thakur and Subhash Chander have been appointed incharge of zones," Jagirdar said.
Names have also been announced of the special invitees, grievance cell,fund raising, media team, women and youth cells.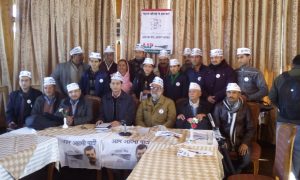 The state committee has been approved by AAPs top committee headed by party chief Arvind Kejriwal for one year.
"Only people with clean backgrounds will be inducted into the party," Jagirdar said.
Talking about the Congress and the BJP in the state,Sushant said both the parties have always mislead the people of the state by allegations and counter allegations instead of focussing on governance.
"Both these parties were two sides of the same coin.As a result there was a vacuum in the politics of the state which can be filled in only by AAP," Sushant said.
Sushant is a former BJP cabinet minister in the PK Dhumal government.He has also been an MP from Kangra until recently but fell out with Dhumal accusing him of ignoring corruption in the state.