Himachal tells tourists not to visit snow bound Manali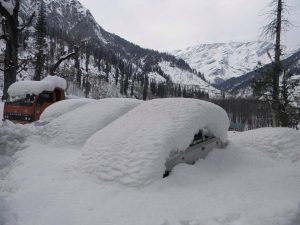 Shimla :Five days after a heavy snowfall in Himachal Pradesh normal life continues to be disrupted in many places including the popular tourist resort town of Manali in the Kullu valley.
Police issued an advisory Wednesday asking tourists not to visit Manali for the next few days as it is under two to three feet of snow.
"Avoid travelling to Kullu & Manali as there is no electricity and water supply here.There is no expected date of restoration of these services," said P L Thakur, Inspector General police.
Talking about the road connectivity to Manali Thakur said,"The road on the left bank of the Beas from Kullu to Manali continues to be blocked."
"The right bank road has been opened but only for light vehicles," he said.
Heavy snowfall over the weekend in and around Manali took everyone by surprise.
The authorities rescued hundreds of tourists from the hills overlooking Manali close to the 13,050 ft high Rohtang pass. But 28 people continue to stuck in Marhi.
"25 men, two women and a child continue to be housed at the Marhi rescue hut," Thakur said.
Half of Himachal Pradesh continues to be without electricity for the past few days as power lines have been snapped by heavy snowfall and fallen trees. Many major roads have still not been cleared of snow.
After many years the hill state has witnessed a heavy snowfall in the first half of December.