Road sinks near Chotta Shimla parking site
Shimla : A section of the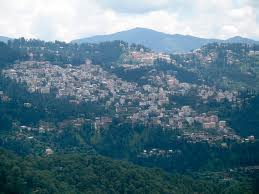 national highway caved in close to the Himachal Pradesh secretariat in Chotta Shimla on Sunday .
A visit at the spot by Sun Post revealed that around a ten metre stretch of the highway has sunk by at least six feet .
Also two buildings have come crashing down .They housed a liquor shop and a Sulabh run public toilet .
Residents down the hill are worried if the slides continue more debris could damage their houses . A huge parking structure is coming up here .
An official of the state's PWD department said the slide has taken place due to the bursting of a water pipe here . While local residents say the landslide has taken place due to excavation work carried out by the construction company .
The state government has awarded the construction work to P.K. Constructions , a local company at a cost of 12 crore .
The parking plans to accommodate 250 cars and 1032 sq m of commercial space in this congested area of the town .