We need anti hail nets not guns : Virbhadra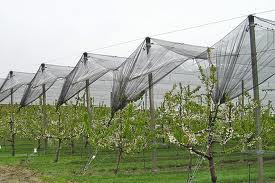 Shimla : Union minister Virbhadra Singh has criticised the anti-hail guns experiment by the ruling BJP in Himachal Pradesh's apple belt saying it has proved to be a huge failure .
"Instead of anti-hail guns which have failed we will provide subsidised anti-hail nets when the Congress is voted to power ,' said Singh while addresing a public rally in Jubbal 90 km from here late Monday .
Much of the apple belt has been battered by hailstorms earlier this month causing wide spread damage to blooming apple trees .
A couple of years ago the state government had installed three hail guns and a radar as a pilot project with help from an American company .
But the experiment has been widely criticised for being ineffective . Farmers say the guns only make noise but fail to destroy hail bearing clouds .
But on the other hand anti hail nets are being used to cover trees for decades by some farmers who say hail isn't able to cause any damage as nets offer complete protection from hail .
But nets are expensive . Sensing this the Congress has for the first time decided to address this long standing issue and take on the BJP which has hyped up the anti-hail guns technology .
Assembly elections are due late this year in Himachal Pradesh and apple is Himachal Pradesh biggest cash crop .
Last year Himachal Pradesh produced the lowest apple yield in more than a decade with the Rs 2200 crore economy plummeting to around Rs 700 crore .