President and Vice President to visit Shimla in June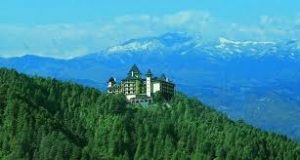 President Pranab Mukherjee and his deputy Vice President Hamid Ansari will visit Shimla in the first half of June, a spokesman of the state government said here.
In this connection a high level meeting was held in the state secretariat here looking into security issues.Both the premiers will visit many places in and around Shimla.
While Hamid Ansari is scheduled to be in Shimla from June 7 to June 10, Pranab Mukherjee will arrive here on June 11 and leave on June 15.
The Retreat located 15 km uphill is the summer house of the president of India.It is located close to the Oberoi's Wild Flower Hall luxury hotel.
It is a sprawling British era house overlooking snow clad Himalayan peaks in the distance.