Power Tillers enter Himachal steep hill farms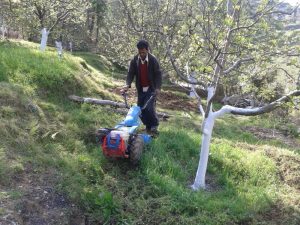 Shimla : Due to shortage and rising costs of labour farmers in the mid and high hills of Himachal Pradesh are fast taking to power tillers to work in their fields and orchards .
Due to the steep terrain of the terraced farms using tractors is not possible but there is space for bringing in smaller power tillers in both empty fields and tree covered apple and stone fruit orchards .
In the last couple of years cheap power tillers have entered the market and farmers have been buying them in plenty.
The cost of a power tiller varies between Rs 80,000 to Rs 120,000 . Also the government offers a flat subsidy of Rs 60,000 on a machine costing Rs 120,000, say the state horticulture department officials.
A power tiller can do multi-purpose farm jobs like digging, mowing and cutting in little space as compared to a tractor which needs flat farms.
Petrol run Power tillers are most popular in the vegetable belt in the mid hills known for producing off-season vegetables which finds its way across northern India .
Here farmers own individual machines or hire the services of a joint tiller in the area .
Apple and stone fruit orchardists are also acquiring tillers as using tractors with trees is not possible as they come in the way .
But the biggest relief power tillers have brought to farmers is less dependancy labour which is not only scarce but becoming more expensive every year.
Around 90 per cent of the people in the state live in rural areas .