Naseer performs at Shimla's Gaiety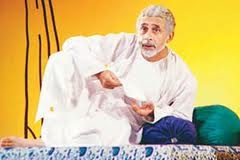 He is perhaps the biggest star to perform at Shimla's historic gaiety theatre in its 150 year old history, and Shimaites relished every moment of Naseeruddin Shah here late Friday .
Gaiety' top hall was house-full an hour before the great actor stepped on stage in a black sherwani to a standing ovation. And when his deep baritone voice echoed across the hall the audience was ecstatic .
Based on Ismat Khanum Chughtai's three short stories (Ismat Aapa Ke Naam) has three solo performances .
The first 'Do Haath' by Seema Pahwa(remember Badki of Hum Log).A tribute to a witty , wise, warm, wonderful woman, truly of a kind.
'Mughal Bachcha' told by Ratna Pathak Shah(Naseer's wife in real life) . Within this wry and perceptive social commentary is interwoven a love story of epic proportions: the story of 'Gori Bi' and 'Kaley Mian'.
'Garhwali' told by Naseeruddin Shah , a satire on the institution of marriage as well as the social mores of the 40s. The story rings as true today as it did when Ismat's writing enraged hordes of male chauvinists.
Music is by Vishal Bharadwaj , art direction and costumes by Salaim Arif and Ratna Pathak. Producer Jayaraj Patil and the is Director Naseeruddin Shah.
Shimla's theatre lovers will remember this evening for a long long time .