The forever collapsed shed in Chotta Shimla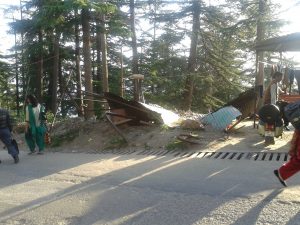 Shimla : It has been around five years since this shed collapsed in Chotta Shimla but nobody has cared to repair it or even remove the collapsed make shift roof sheets , beams and posts .
The MC Shimla and the local PWD office have failed again to clear the mess . The collapsed roof and beams have still not been removed is shocking .
This despite the site is on the busy Chotta-Shimla Kasumpati road , close to the state secretariat with hundreds of vehicles and thousands of people walking past .
The make shift roof had collapsed on a monsoon day after a tree fell on it . In the first year the tree was removed but not the rest of the mess.
If the site is disputed why hasn't it been sorted out for the last five years .
Why can't the inefficient PWD and the Municipal Corporation at least remove the debris . A debris which has a history of five long years !