Now Himachal to Punjab golden temple express volvo bus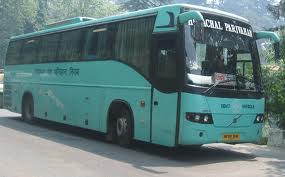 Shimla : Connecting two important sikh pilgrimage centres , the state roadways is all set to start a volvo bus service between Poanta Sahib in Himachal to Amritsar in Punjab .
Transport minister G S Bali told the house here Thursday that the volvo service will be called the golden temple express .
The bus will start from Poanta Sahib and will travel via Dehradun to Amritsar .
Replying to another question the minister said the government had provided Rs 37.60 crore to the state roadways to buy 204 buses and 8 small buses .
"As the government had doubts about the quality and cost of 100 buses the a probe has been ordered into the matter ,"Bali told the house .
Poanta Sahib is located in Sirmaur district at the edge of the Yamuna river and is well known for its gurdwara.