MTB Himalaya's big catch Luis Leao Pinto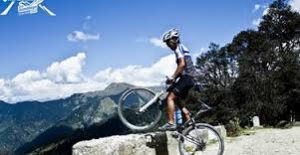 Shimla : Barely hours before the race takes off organisers of the MTB Himalaya cycle rally here are thrilled with the arrival of world 9 Luis Leao Pinto .
When Sun Post asked the chief organiser Mohit Sood late Friday on how the Himalayan Adventure Sports & Tourism Promotion Association(HASTPA) will gain with his participation.
Sood said , "Luis Leao Pinto will guide and help us in improving MTB Himalaya . Luis will be like our brand Ambassador ."
Besides being world number 9 , 34 year old Pinto is the Portuguese national champion and ranked 6 th in Europe. A mountain biker at heart he prefers dirt roads over tarmac.
Asked why he came all the way to India to take part in the MTB cycle rally Pinto told Sun Post , "I was attracted by the lure of the Himalayas."
"I am sure I will enjoy cycling here and help improve MTB Himalaya ," he added .
In its ninth year the MTB began with 30 riders in 2004. This year there are over 80 riders from 8 countries and 15 cities across India including 6 from Himachal . There is a large group from the Indian army and air force .
Belgium, Scotland , Ireland , Portugal , Italy, England , Nepal and India cyclists are taking part .
The oldest participant is 48 years old and the youngest 19 years. This time the six day event has been made tougher as the route has been re-drawn.
The race will be flagged off early Friday from Shimla Saturday . Each day the bikers will cover 80 to 90 km and often climbing a gruelling 2000 m every day . The highest point on the route will be 3400 m.
MTB Himalaya is sponsored by world famous brands like Discovery channel among seven others .