Big hike in Himachal bus fares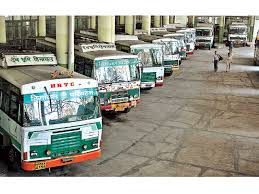 Shimla : Bus fares in Himachal state roadways buses have been increased by a whopping 30 per cent . The rise will come into effect from Oct 1.
This was announced by the state transport minister G S Bali over the weekend after the state cabinet gave its approval .
Bali said the government has been forced to take the decision in view of the sharp rise in prices of diesel and rise in spare parts of the Himachal Road Transport Corporation (HRTC) buses .
The minimum bus fare has been increased from Rs 2 to Rs 5 . For a distance of 5 km the new rate will be Rs 5.
"Bus fares in state roadways buses are being raised after a couple of years. Per km in Himachal its is 1.11 per km and is 1.50 per km in the neighbouring hill state of Uttarakhand," Bali said .
With the rise in state roadways buses , the government may soon give its nod for the raising of private bus fares .
Private operators have been urging the state government for the past couple of months to raise fares . They have been threatening to go on strike .
The HRTC is incurring an estimated loss of Rs 80 crore per year. HRTC's accumulated losses are around Rs 600 crore .
In the near absence of rail and air networks , road travel is the main mode of travel in the hill state .
While private buses are found mostly in urban and semi-urban profitable routes .
The state run HRTC operates in some of the remotest areas of the state which has some of the hardest mountain terrain in the country causing heavy wear and tear and high fuel consumption .