Pinto leads day 2 , as rain follows 9 MTB Himalaya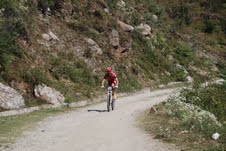 Shimla : Rain followed  the bikers of the 9 MTB Himalaya on day 2 as world no 9 Luis Leas Pinto of Portugal continues to lead .
Just like day 1 Pinto dominated the race leaving most of the bike behind by several kilometres.
Pinto was followed by countryman Eduardo Pereira . The Indian army team was third .
Among women, Laxmi  Magar of Nepal was
leading .
Starting from the base camp, the 70 odd riders took the scenic route of Matiana, Manan village, Mauri to  Narkanda.
Till late Sunday afternoon, most of the bikers have safely crossed the gruelling bike and hike section coupled with a steep uphill till Manan except a few who had mechanical problems .
Organisers said the local kids of Manan village are hanging around with the support staff to cheer the riders
as they complete the gruelling uphill climb .