I remain a big fan of Lance Armstrong : Luis Leao Pinto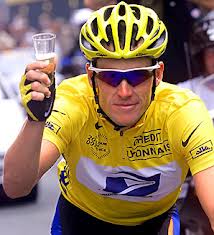 Shimla : World no 9 Luis Leao Pinto from Portugal says he continues to remain a huge fan of disgraced American cyclist Lance Armstrong.
"Despite what happened to him I am still a big fan of the Lance Armstrong who is a great cyclist," Luis Leao Pinto told Sun Post here Friday.
Armstrong won the Tour de France a record seven consecutive times between 1999 and 2005 before being disqualified from competitive cycling for life for doping offences. All his seven titles were snatched from him .
"In the days when Armstrong raced it was different. But today cycling is very different . It is the most controlled and clean sport in the world ," he claimed.
"Cycling is an expensive sport . Cycles used by professionals cost around $7000. Weighing about 9 kilos and equipped with 20 gears ," he added .
Pinto arrived here late Friday to take part in the MTB Himalaya India's most popular mountain bike rally. With a high profile rider like him the organisers are naturally thrilled .
"I am here due to the lure of the Himalayas and sure will enjoy the experience," Pinto told Sun Post .
"This year I have just one big rally to take part in Brazil. The experience of cycling in the Himalayas will definitely help me for Brazil ," Pinto said .
Besides being world number 9 , the 34 year old is the Portuguese national champion and ranked 6 th in Europe. A mountain biker at heart he prefers dirt roads over tarmac.