Mandi Lok Sabha poll ——in poll weary Himachal !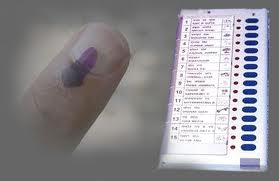 Shimla : As if we didn't have enough of the election commission's model code of conduct in the recent Himachal Pradesh assembly elections which lasted for a record a quarter of a year last year (Oct –Dec 2012).
 And now we have this election model code in force again , and so no policy decisions and major development work can happen until the votes of the Mandi Lok Sabha seat by election are counted .
 A sloppy and awkward Virbhadra Singh Congress government has barely found its feet .
 A government which has somewhat begun governing long after the honey moon period ended . Almost half a year after snatching power from arch rival BJP in late December things were starting to happen .
All agree in the hills that the little development work only happens in the few dry summer months , rest of the year passes by leisurely in a state which has the highest army of government employees . And moving this army to work is often a Herculean task for any government .
So by the time the poll code is lifted the monsoon will be here in full fury and roads which are the lifeline of the hill state cannot be built or repaired until October .
 And October to April is always hibernation time in the prolonged winter season here and outdoor work is always postponed till the summer.
 So now this government will conveniently go back into sleep mode until the Mandi results are declared and the model code of conduct is lifted .
 The country's second largest Lok Sabha seat Mandi covers over a third of Himachal Pradesh which is larger than neighbouring Punjab and Haryana .
The poll weary and fatigued hill folk may not be excited by  this by poll which has Pratibha Singh of the Congress against Jai Ram Thakur of the BJP .
 Pratibha won the seat in 2004 and she is the wife of chief minister Virbhadra Singh .
 On the other hand Jai Ram is an upcoming BJP leader and former minister in the PK Dhumal government .
 And what if there is an early Lok Sabha poll at the end of this year , then Mandi will again go to the polls with the rest of the country  !