Shimla summer festival : an annual punishment !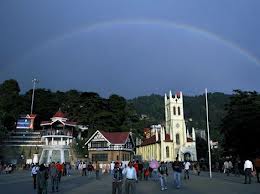 Shimla : The Shimla summer festival is not only very loud and boring but also outdated .
 The almost week long festival lost its relevance at least ten years ago . So why is the Himachal Pradesh government carrying on with this annual tradition and punishment .
 Held in the heart of Shimla the Ridge which is the hub of tourists and locals . The holding of the festival here only adds to the maddening crush of people .
 So why don't the organisers(district administration) figure out and just stop holding the event .
 Not having this festival will not only help save money but above all give some breathing space on the Ridge and the Mall in the peak summer season .
 Added to this is the late night festival noise blaring from the giant speakers late into the night . So that walkers on the Mall have to shout at each other to be heard .
 Why should expensive playback singers from the Bombay film industry be invited .
 No need to invite loud and often crude Punjabi comedians who only blunt our sensibilities , why ?
 So wake Himachal government and do away with this annual punishment and do us a long due favour , phew !